THE NAME OF THIS SITE SAYS IT ALL, OLD FASHIONED HUNTING-WORKING AIREDALE TERRIERS THE WAY THEY USED TO BE, MEANT TO BE, AND STILL CAN BE!
WE ARE TALKING ABOUT HUNTING WITH AIREDALES TERRIERS HERE.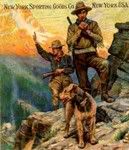 MANY YEARS OF AN UNCOMPROMISING COMMITMENT TO PRODUCE, MAINTAIN AND HUNT WITH AIREDALE TERRIERS IN THE OLD TRADITIONS OF THE BREED FOUNDERS. SERIOUS HUNTING AIREDALES FOR SERIOUS WORK.
CALIFORNIA KENNELS HOME OF TRADITIONAL HUNTING BRED AIREDALES LOCATED IN CENTRAL NY STATE.



HI, MY NAME IS AL KRANBUHL, I AM A LIFE LONG OUTDOORSMAN AND HAVE HUNTED AND FISHED FOR JUST ABOUT EVERYTHING I HAVE WANTED IN THE US AND CANADA. I HAVE BEEN INVOLVED IN MANY TYPES OF OUTDOOR ACTIVITIES, BUT WHAT I TRUELY ENJOY MOST IS THE TRAINING AND WORKING WITH HUNTING DOGS. MY MAIN EXPERIENCE HAS BEEN WITH BREEDS SUCH AS BEAGLES AND SEVERAL OF THE COONHOUND BREEDS. I HAVE ALSO IN THIS LATER STAGE OF MY LIFE OBTAINED MY FIRST DEDICATED BIRD DOG AN ENGLISH SETTER. BUT MY FIRST LOVE HAS ALWAYS BEEN THE AIREDALE TERRIER. THAT BEING SAID THE AIREDALES THAT REALLY INTEREST ME ARE THE ONES THAT ARE FROM LINES THAT HUNT AND THAT BECOME VERY ACCOMPLISHED AT DOING IT.


I HAVE OWNED, HUNTED AND WORKED WITH AIREDALE TERRIERS SINCE 1967 AND SPENT MY ADULT LIFE PROMOTING THEM AS HUNTING DOGS. I HAVE USED THEM FOR A LARGE VARIETY OF TASKS IN THOSE YEARS. AT ONE TIME OR ANOTHER I HAVE HUNTED THEM ON JUST ABOUT EVERYTHING THAT WALKS, CRAWLS OR FLYS IN THIS NECK OF THE WOODS. ONE THING IS FOR SURE, A WELL BRED AIREDALE FROM WORKING LINES IS A GREAT HUNTING COMPANION AND THEY CAN AND WILL PUT A WIDE VARIETY OF GAME IN THE BAG AS SHOWN IN THE LITTLE PHOTO BELOW.



MY VERY FIRST AIREDALES OUT OF THE OLD MOORELAND KENNEL WERE EVERYTHING I WANTED AND SOME OF THE BEST HUNTING DOGS I EVER HAD THE PLEASURE OF OWNING.

FOR ME THINGS STARTED TURNING SOUTH IN A BAD WAY DURING THE LATE SEVENTIES AND EARLY EIGHTIES. THE OLD AMERICAN HUNTING LINES WERE FADING FROM THE SCENE. WHAT WAS LEFT WAS BEING DELUTED AND POLUTED BY NON HUNTING AIREDALE LINES IMPORTED FROM ENGLAND AND GERMANY. I WAS NOT VERY PLEASED WITH THE PERFORMANCE, SOME OF THE PHYSICAL PROBLEMS AND OVERLY AGGRESSIVE TEMPERAMENTS I WAS FINDING WITH THE AIREDALES THAT WERE AVAILABLE AT THAT TIME. NOW WE HAVE ON TOP OF THAT BREEDERS SELLING SO CALLED "RARE" SOLID BLACK AND SOLID RED COLORED AIREDALES TO FURTHER SCREW UP THE GENE POOL. I DO NOT BUY INTO THIS SOLID COLOR AIREDALE BALONEY FOR ONE SECOND, FOR WHAT IT IS WORTH MY ADVICE IS TO AVOID THESE HYBRIDS AND ANYTHING ELSE FROM THOSE KENNELS LIKE THE PLAGUE THAT THEY ARE!!
AFTER BEING FORTUNATE ENOUGH TO OWN AND HUNT WITH THOSE TOP FLIGHT AIREDALES I WAS SPOILED AND KNEW THAT I WOULD NEVER BE SATISFIED WITH SUB PAR PERFORMERS. I WAS JUST PLAIN SICK OF ALL THE SUB PAR PERFORMING AIREDALES I HAD BEEN GETTING SO TO TRY AND INSURE MYSELF OF A RELIABLE SOURCE OF WORKING AIREDALES THAT COULD DO THE JOB ON A CONSISTANT BASIS I DECIDED I HAD TO GET SERIOUS AND PUT MATTERS IN MY OWN HANDS. I SCOURED THE COUNTRY (AND I MEAN SCOURED) FOR THE BREEDING STOCK OUT OF LINES THAT HAD QUALITIES I COULD WORK WITH.

I STARTED UP THE CALIFORNIA KENNEL AND IMPLEMENTED A BREEDING PROGRAM GEARED TOWARD HUNTING ABILITY AND PERFORMANCE THAT I THINK HAS PAID OFF. I BELIEVE IN EVEN KEELED CALM NON OVERLY AGGRESSIVE TEMPERAMENTS. I WANT MY DOGS TO WORK WELL AS A TEAM WITH OTHER AIREDALES AS WELL AS MY HOUNDS WHEN IT IS CALLED FOR WITHOUT FIGHTING INCIDENTS. CERTAINLY I DO NOT WANT THEM AGGRESSIVE TOWARD PEOPLE. AGGRESSION AIMED AT OTHER DOGS AND PEOPLE AGGRESSION GO HAND AND HAND AND IS THE MOST SERIOUS AND WORST KIND OF FAULT. I HAVE WORKED VERY HARD TO ELIMINATE IT. THAT BEING SAID AND WITHOUT BEING GRAPHIC THESE AIREDALES HAVE MORE THAN ENOUGH GRIT FOR ANY SITUATION THAT ARISES DURING A HUNT AND WILL HANDLE THEMSELVES APPROPRIATELY.
I LIKE MY HUNTING DOGS TO BE WELL BALANCED IN THEIR ABILITIES, TOO MUCH OF ANY ONE THING USUALLY MAKES FOR A UNSATISFACTORY PERFORMING DOG OVERALL IN MY OPINION.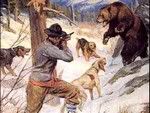 I SEE A LOT OF TALK OUT THERE ABOUT HUNTING WITH AIREDALES BUT IT TAKES MUCH MORE THAN TALK TO GET IT DONE, IT TAKES DOING!
THERE IS ONLY ONE ACCURATE WAY TO FIND AND IDENTIFY TOP HUNTING DOGS OF ANY BREED. RIGGED AND STAGED HUNTING TESTS ARE OF LIMITED VALUE OTHER THAN STARTING OFF PUPS AND YOUNG DOGS. I CALL IT KINDERGARTEN FOR DOGS. ONCE PAST THAT STAGE WE TAKE THE NOVEL OLD TIME APPROACH THAT REAL HUNTERS TAKE FOR FINISHING BY ACTUALLY HUNTING OUR DOGS IN THE FIELD ON REAL LIVE WILD GAME. HUNTING THEM HARD MAKING THEM PROVE THEMSELVES TO BE A CAPABLE HUNTING DOG. THIS MEANS PUTTING GAME IN THE BAG.

DOGS THAT CAN NOT MAKE THE GRADE ARE OUT AND SHOULD NEVER BE CONSIDERED FOR BREEDING. THE CREAM THAT RISES TO THE TOP IS WHAT WE ARE LOOKING FOR AND GO ON FROM THERE. NOW IF SOMEONE HAS BETTER APPROACH TO IDENTIFYING GOOD HUNTING DOGS BY ALL MEANS ENLIGHTEN ME. TAKE IT FOR WHAT IT IS WORTH BUT THERE IS NOT TOO MUCH CREAM IN THE AIREDALE TERRIER BREED AT THIS TIME AS A WHOLE WHEN IT COMES TO TRUELY TOP HUNTING DOGS.
AT THE CALIFORNIA KENNEL THERE IS MORE TO IT THAN JUST LOOKING LIKE AN AIREDALE, "THEY HAVE TO BE AIREDALES!"
I LIKE A NICE LOOKING AIREDALE AS WELL AS ANYONE. BUT!, THIS BREEDING PROGRAM IS STRICTLY PERFORMANCE ORIENTED AND HERE PERFORMANCE IN THE FIELD ALWAYS COMES FIRST. I WILL LEAVE ALL THE TALK ABOUT THE STANDARD TO THE SHOW FOLKS AS I DO NOT PAY MUCH ATTENTION TO SUCH THINGS. HAVING PUT ALMOST ALL OF MY EFFORTS INTO HOW MY DOG'S PERFORM HAS RESULTED IN A LINE OF AIREDALES THAT WILL VARY SOMEWHAT IN APPEARANCE AND SIZE. THEY WILL RANGE IN SIZE FROM AS SMALL AS FORTY-FIVE POUNDS TO AS LARGE AS AN EIGHTY POUND PLUS MOORELAND TYPE. MOST WILL HAVE A GOOD HARD MEDIUM LENGTH EASILY MAINTAINED COAT FOR THE FIELD. I WILL HAVE ON OCCASION A THROWBACK OLD FASHION "REDLINE" TYPE (slick coated) SHOWING UP FROM TIME TO TIME.
PETE BASSANI'S "JOE BOY" PICTURED HERE BELOW WITH A COUPLE OF NICE COONS IS A GOOD EXAMPLE OF THE "REDLINE" TYPE AIREDALE. SUMMING THINGS UP ONLY THE VERY BEST HUNTERS ARE USED FOR BREEDING REGARDLESS OF SUPERFICIAL STUFF LIKE SIZE, COAT, ETC.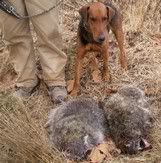 I ALSO HAVE A VERY FINE LINE OF ENGLISH COONHOUNDS THAT I HAVE BEEN HUNTING FOR MANY YEARS. THEIR MAKEUP IS A BLEND OF HARDTIME, JUNIOR AND BOYD'S LITTLE JOE FOR STARTERS, THE REST OF THE DOGS IN THEIR BACKGROUND ARE THE WHO'S WHO RESIDING IN THE ENGLISH COONHOUND HALL OF FAME. THESE ARE ABOUT AS GOOD AS THEY GET.
ALSO THERE IS NO BETTER MEASURING STICK OR WAY OF EVALUATING MY AIREDALES THAN PUTTING THEM IN AND HUNTING THEM AGAINST SOME OF THE BEST COONHOUNDS AROUND.
WHEN YOU FIND AN AIREDALE THAT CAN STAY WITH THESE HOUNDS YOU HAVE SOMETHING SPECIAL.


====================================================================
AIREDALE TERRIER PUPPIES

A LOT OF THOUGHT, HUNTING AND TESTING OF ADULT DOGS BOTH MALE AND FEMALE IS DONE BEFORE ANY CONSIDERATION OF BREEDING IS MADE. IT CAN SOMETIMES TAKE SEVERAL YEARS FOR ME TO EVALUATE A DOG AND CONSIDER IT TO BE WORTHY OF BREEDING. WHEN A MATING IS MADE HERE IT IS ALWAYS WITH THE INTENTION AND HOPE OF AN IMPROVEMENT IN THE LINE'S HUNTING ABILITIES, WE DON'T MAKE PUPPIES JUST TO PUT MONEY IN OUR POCKETS. TOP OF THE LINE PUPPIES WITH MANY GENERATIONS OF BREEDING EMPHASIS ON BRED IN STRONG HUNTING TRAITS, ABILITY AND DRIVE. AVAILABLE OCCASIONALLY ON A VERY LIMITED BASIS, E-MAIL FOR AVAILABILITY.
EVEN THOUGH I DO NOT PRODUCE MANY PUPPIES MYSELF I CAN HELP PUT SOMEONE WHO IS SERIOUS ABOUT GETTING A HUNTING BRED AIREDALE IN CONTACT WITH A BREEDER WHO DOES HAVE THE RIGHT STUFF. TRADITIONAL WORKING AIREDALE FORUM AND IT'S MEMBER-BREEDERS OVER THE PAST FEW YEARS HAS BEEN IN THE PROCESS OF ESTABLISHING A BREEDER'S NETWORK AROUND THE COUNTRY TO MAKE AVAILABLE THE RIGHT KIND OF AIREDALE TERRIER TO FOLKS WHO ARE SERIOUS ABOUT HUNTING THEM!
=====================================================================
CALIFORNIA KENNEL WEBSHOTS ALBUMS
IN ADDITION TO THE PICTURES POSTED IN THE GALLERY HERE, IF YOU WOULD LIKE TO SEE OTHER PHOTOS OF SOME OF MY DOGS PAST AND PRESENT AND GET A LITTLE MORE INFORMATION ABOUT THEM CLICK ON THE WEBSHOT LINK ON THE BOTTOM OF THE PAGE. THERE ARE A FEW HUNTING PICTURES POSTED WITH AS MUCH TASTE AS POSSIBLE FOR THOSE TYPES OF PICTURES. I UPDATE AND PUT IN NEW PICTURES FROM TIME TO TIME.
===================================================================

FORUM AND MESSAGE BOARD, HOME OF THE HUNTING AIREDALE WHERE THERE IS MORE THAN JUST TALKING ABOUT HUNTING! A GATHERING PLACE FOR HUNTERS THAT REALLY DO HUNT WITH AIREDALES!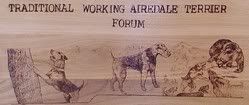 THIS IS THE LARGEST REPOSITORY OF TRADITIONAL AIREDALE AND HUNTING WITH AIREDALE INFORMATION GATHERED UP AND AVAILABLE AT ONE PLACE IN THE WORLD!

REGARDLESS OF WHAT SOME WOULD HAVE YOU BELIEVE, ALL AIREDALES ARE NOT CREATED EQUAL WHEN IT COMES TO HUNTING. I LEARNED THAT LESSON THE HARD WAY AND IT IS PRETTY MUCH SUMMED UP IN THE OLD SAYING, "YOU CAN NOT MAKE A SILK PURSE OUT OF A SOW'S EAR". WHEN IT COMES TO HUNTING OR ANY PERFORMANCE WORK FOR THAT MATTER "BREEDING RULES", THE GOOD ONES ARE "BORN" NOT MADE. THERE ARE THE "PRETENDERS" WHO MAY HAVE THE WILL BUT THEY ULTIMATELY LACK THE SKILL AND THEN THERE ARE THE "REAL DEALS".

FOR THOSE WHO ARE HARDCORE SERIOUS ABOUT HUNTING WITH AN AIREDALE TERRIER AND WANT TO BE EDUCATED YOU ARE WELCOME TO CHECK OUT THE TRADITIONAL WORKING AIREDALE TERRIER FORUM. WORKING TOGETHER LIKE MINDED BREEDERS AND HUNTERS ARE SHARING THEIR IDEAS AND KNOWLEDGE TO INSURE AND MAINTAIN A HIGH LEVEL OF NATURAL HUNTING AND WORKING ABILITIES. VERY GOOD AND USEFUL INFORMATION FROM THE TOP AIREDALE BREEDERS AND HUNTERS IN THE COUNTRY ON OBTAINING, BREEDING AND TRAINING AIREDALES FOR SERIOUS WORK.
OTHER SUBJECTS SUCH AS HUNTING AND DOG EQUIPMENT REVIEWS, GROOMING, FEEDING, MEDICAL ISSUES CAN ALSO BE FOUND WITH PERTINENT LINKS. EVERYTHING IS ARCHIVED SO IT CAN BE REFERENCED AT A LATER DATE.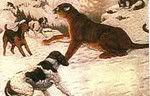 TO BECOME A MEMBER YOU MUST BE SERIOUS ABOUT HUNTING AIREDALES, A SIMPLE REGISTRATION AND YOUR REAL NAME AND WHERE YOU ARE FROM WILL BE REQUIRED TO ACTIVATE AN ACCOUNT. WE DO NOT ALLOW "TROUBLEMAKERS-CHEAPSHOT ARTISTS" AND WANT TO KNOW WHO OUR MEMBERS ARE. "QUALITY OVER QUANITY", WE ARE NOT LOOKING TO BE THE BIGGEST AIREDALE FORUM OR HAVE THE MOST MEMBERS. THIS BOARD IS ABOUT HAVING THE BEST HUNTING WITH AIREDALE TERRIER CONTENT AND THE BEST MEMBERS THAT PUT EGOS ASIDE AND HAVE THE BREED'S WELFARE, HUNTING INTEGRITY AND HERITAGE AT HEART. AT THAT WE HAVE SUCCEEDED! THE LINK IS ON THE BOTTOM OF THIS PAGE.

=====================================================================
FOOTNOTE
AIREDALE TERRIERS ARE A VERY VERSATILE BREED AND USED FOR MANY OTHER ACTIVITIES OTHER THAN HUNTING. SAR, DETECTION WORK, OBIEDIENCE, AGILITY, THERAPY AND SHOWING. FOR THOSE INCLINED TO DO THIS TYPE OF STUFF I AM ALL FOR ENJOYING YOUR DOG. IT IS NO SECRET THOUGH THAT THE VAST MAJORITY OF AIREDALES END UP JUST BEING A FAMILY'S COMPANION DOG WHERE WHICH THEY HAVE NO PEER.
THE ONE THING I AM STRONGLY AGAINST IS THE SO CALLED PROTECTION SPORTS AND "MANWORK". DELIBERATELY BREEDING AND TRAINING AIREDALE TERRIERS FOR THE PURPOSE TO ATTACK AND BITE PEOPLE IN THE MOLD OF GERMAN SHEPHERDS, MALS, DOBERMANS, ROTTIES AND OTHER PROTECTION BREED TYPES.
AS MY GOOD FRIEND HENRY JOHNSON PUTS IT, "AIREDALES ARE PEOPLE DOGS"!!
============================================================

LOOK, IF I WANTED TO OWN A DOG BREED THAT ACTS LIKE A DOBERMAN OR A ROTTWEILER THAT IS WHAT I WOULD HAVE. IT IS A PRETTY SAD DEAL WITH ALL THE DOG ACTIVITIES THERE ARE TO ENJOY AND THE ONLY THING A FEW AIREDALE OWNERS CAN COME UP WITH IS TO TRAIN THEIR AIREDALES TO ATTACK AND BITE PEOPLE.
I KNOW OF NOT ONE SINGLE REASON OR ADVANTAGE IN HAVING MY HUNTING AND COMPANION DOGS TRAINED TO ATTACK AND BITE PEOPLE. I COULD WRITE A BOOK OF REASONS FOR NOT PROMOTING THAT GARBAGE. WE HAVE TODAY A SUE HAPPY LITIGIOUS SOCIETY ALONG WITH BREED BANS BEING VOTED INTO LAW BY MUNICPALITY AFTER MUNICIPALITY. HOMEOWNER'S INSURANCE COMPANIES REFUSING COVERAGE TO DOG OWNERS PERCIEVED TO HAVE A DOG BREED THAT POSES A BITING LIABILITY.
THE BOTTOM LINE IS THE GENERAL PUBLIC HAS HAD IT WITH DOG ATTACKS AND BITING BREEDS. PENALTIES FOR OWNING SUCH A BREED ARE GOING TO GET FAR WORSE THAN BETTER.
I HAVE BEEN CRITICIZED BY A COUPLE OF SO CALLED WORKING BREEDERS FOR MY STANCE ON THIS ATTACK DOG BUSINESS. THEY CLAIM TO "HAVE SEEN THE LIGHT", LOL RIGHT! MORE LIKE SEEING POTENTIAL SALES AND SEEING DOLLAR SIGNS.$$, IF IT IS SOMETHING THAT WILL CHALK THEMSELVES UP ANOTHER SALE THEY ARE ALL FOR IT! WHAT THEY CAN TAKE TO TO THE BANK IS I WILL NEVER SELL THE AIREDALE BREED OUT FOR MONEY SO A FEW WACKOS CAN BREED, TRAIN AND SIC THEIR DOGS ON PEOPLE.
IF YOU ARE ONE OF THE FEW INCLINED TO DO SUCH CRAP WITH AIREDALES, DO NOT BOTHER CONTACTING ME OR THE TRADITIONAL WORKING AIREDALE TERRIER FORUM! YOU ARE NOT WELCOME AND A DETRIMENT TO THE BREED IN MY OPINION.
LINKS
http://huntingwithairedales.blogspot.com/2010/07/hunting-with-airedales.html
http://traditionalairedale.proboards.com/index.cgi?